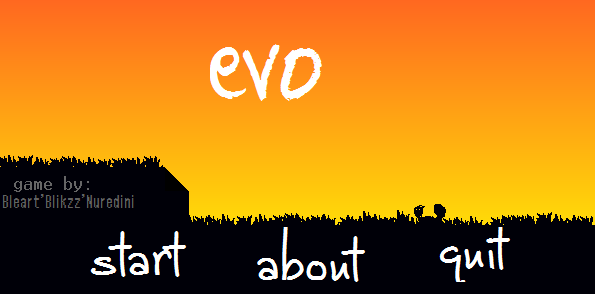 evo


Keys-------------------------------------------------
Arrow Keys-Move
Z-Jump
----------------------------------------------------
Go to http://www.blikzz.tk for more info...
YouTube
https://www.youtube.com/channel/UCmkgiUBEQaWDKsvok...

IndieDB
http://www.indiedb.com/games/evo

-----------------Developer's Notes-----------------

Description
=========
See what happens to a beautiful land after it's ruled by humans...
Making

=========
Making this game took around two months, I used : Clickteam Fusion 2.5, Aseprite and Tiled Map Editor.
The mood of the game is an aspect that I focused on a lot.The game is suppose to be calm and relaxing while telling a really important story

Credits
=========
Programing:

-blikzz (Bleart Nuredini)
Art:
-blikzz
Music:
-Here are the links to the music (all of it is non-copyrighted)
https://2kutup.bandcamp.com/track/border-line
Comments
Log in with itch.io to leave a comment.
i like this game!!! do more other!!
really powerful mood. A little bit light on conspiracy, but beautifully done
I love games with silhouette themes, well done.
I really like the mood of this game.